Damage due to foreign objects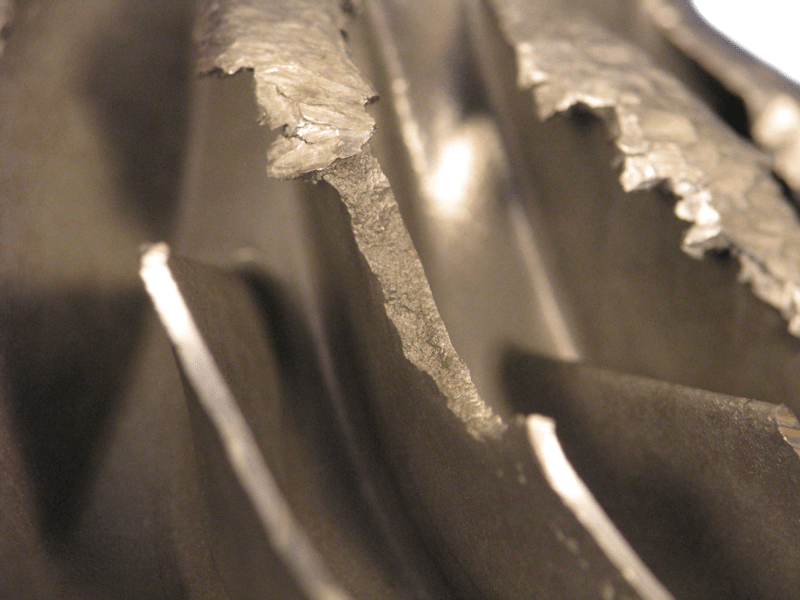 Causes
Foreign body damage on compressor wheel
Anything harder than air that can be sucked in by the turbocharger on the compressor side will cause mechanical damage there. Soft foreign bodies such as rubber particles from seals in the intake tract or scraps from defective air filters cause deformation at the gas inlet edges of the compressor wheel. Imbalance and whistling noises are the result. Hard foreign bodies such as metal parts and hard plastic parts hit the gas inlet edges of the compressor wheel and are thrown back and repeatedly sucked in. The compressor wheel is destroyed. Lumps of ice from a frozen crankcase ventilation act like a soft foreign body and also leave damage.
Foreign body damage on turbine wheel
All foreign bodies leaving the engine via the exhaust manifold hit the gas inlet edges of the turbine wheel as exhaust-side foreign bodies. These foreign bodies are thrown back by the turbine wheel blades and shot back onto the turbine wheel with the exhaust gas flow. In VTG chargers (variable turbine geometry), the foreign bodies bounce back and forth between turbine wheel blades and VTG vanes until the foreign body leaves the turbine wheel in powder form and enters the exhaust tract. This results in total failure of the turbocharger.
Do not worry - we are here for you
Our independent partner workshops will help you competently and expertly in any case. Enjoy professional advice on site and let the experts accompany you to the last step of a repair.

Find a TurboExpert near you!